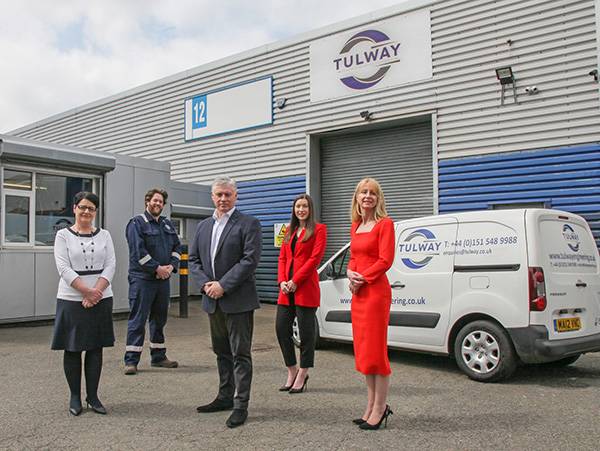 Tulway is a national contractor providing an extensive range of engineering solutions, including specialised fabrication and installation for pipework, steelwork and mechanical equipment. 
Our extensive scope of work provides all clients across varied complexities with both assurance and quality,  demonstrating our commitment to engineering excellence in the products and services we deliver. Operating from two UK workshops, our state-of-the-art facilities enable us to carry out pipework installations, including design and fabrications for our customers.
Combining both innovation and advanced technologies with our highly trained workforce, Tulway employs a first-class team that is integral to the business' successful future.
As a family-run business, we are a dynamic team of people with shared values, dedicating our time and experience to our people and their personal and professional progression.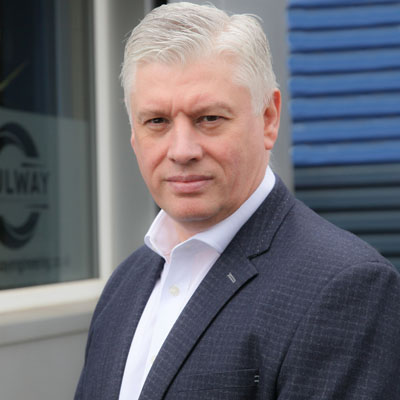 Managing Director of Tulway, Kevin Tully, is a qualified engineer that has successfully navigated the world of engineering for over 35 years. Valuable cross industry experience and unrivalled knowledge in the sector ignited a true passion for the industry, encouraging Kevin to establish Tulway in 1998. 
Kevin is a confident, natural leader determined to drive change across all departments of Tulway in order to reach new heights, achieve business milestones and lead an inspired team to success. 
Founded in 1998, Tulway has evolved and invested in both the people and the business and continues to outline ambitious growth initiatives for the future.  With expertise in the renewable energy sector, Kevin is committed to boosting the green credentials of Tulway through sustainability. Complying with regulations, meeting new exacting standards and improving productivity is integral to the Tulway ethos.
Through progressive knowledge of high pressure gas transmission networks, a developing interest in welding technology, and understanding of modular construction techniques and pre-fabrication amongst several other areas of engineering, Kevin formulated a multidisciplinary business specialising in over 10 core services. 
Taking on both a strategic and technical role, Jayne Tully, director at Tulway, ensures Tulway operates securely and successfully, implementing operational goals to exceed customer expectations and drive engineering excellence.
Through working collaboratively with key clients and facilitating the overall delivery of customer accounts, Jayne's concise management remains a pillar for what we do and how we operate, maximising our efficiency and ensuring a gold standard level of service.
Taking the lead role in the provision of compliance and quality, Jayne ensures regulations are met and adhered to, always striving for the best in class in all that Tulway creates and delivers.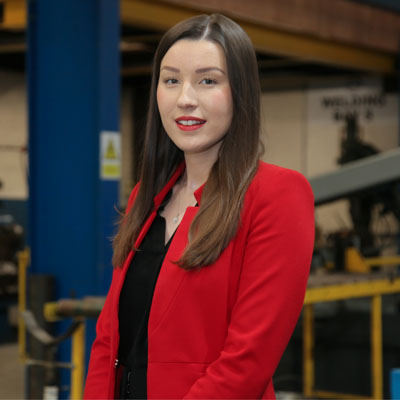 SENIOR HUMAN RESOURCES MANAGER
As senior human resources manager, Jennifer Tully has a comprehensive understanding of HR best practice for business and employment law. Built upon a strong educational background, Jennifer's position at Tulway is strengthened through her bachelor's degree in law, masters degree in human resource management, and CIPD qualification achieved to associate level.
Using experience across both the public and private sector, Jennifer's responsibilities include handling employee relations, case management, and overseeing policies and projects.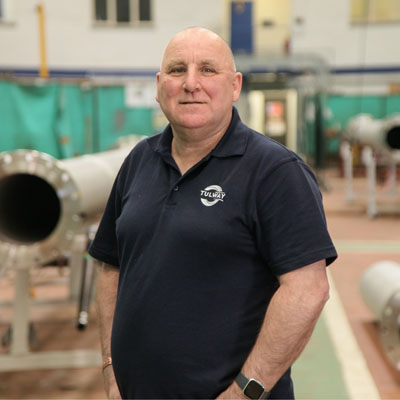 NORTH EAST CONTRACTS MANAGER
Steve Simpson is a fully qualified engineer and senior welding inspector with over 40 years in the fabrication industry. His extensive knowledge and experiences of the oil, gas and petrochemical industries allow him to adapt in a fast-paced and high-pressure environment. 
Steve's role as senior North East contracts manager at Tulway requires him to maintain strong leadership and communication skills while executing various tasks, such as managing standards and quality control, reviewing application codes and monitoring standards and client specifications.
NORTH WEST CONTRACTS MANAGER
As North West contracts manager, Carl supervises the mechanical installation and client liaison for Tulway.
With over 20 years of experience within the chemical industry, Carl has exceptional knowledge and a comprehensive understanding of health and safety requirements on live projects, ensuring all projects are completed to the client's satisfaction.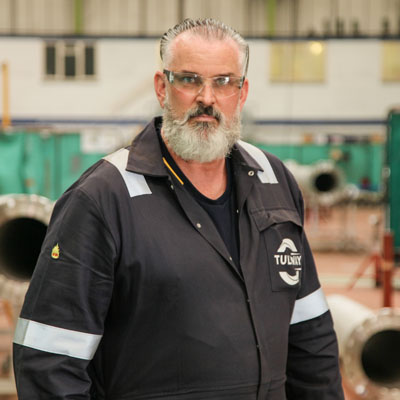 Stuart's vast industry experience spans over 30 years, starting as an apprentice pipefitting technician and later progressing to a pipefitter, before forging ahead into a career as a workshop supervisor. After working for numerous national industry-leading companies, Stuart joined Tulway in April 2021 as our workshop supervisor.
The technical knowledge and experience acquired over Stuart's 30 year career ensures his competence and dedication in supervising the Tulway team on various projects, including pre/post-inspection of fabricated pipework and witnessing the completion of pressure tests on behalf of clients.
NORTH WEST OFFICE MANAGER
Office manager Denise Lloyd ensures Tulway operates seamlessly. With over a decade spent at Tulway, Denise uses her strong communication skills to efficiently oversee and coordinate all office administration, while maintaining project expenditure and partnering with HR to implement office policies.
NORTH EAST OFFICE MANAGER
Lucy joined Tulway in 2021 after over a decade working within several high profile organisations. As a valued member of the team, Lucy has recently been promoted to North East office manager, ensuring efficiency throughout our Middlesbrough site.
With excellent knowledge of accounting, data and administrative practices and procedures, Lucy confidently manages the accounts of both our clients and suppliers, processes invoices and coordinates all office administration.
Lucy has also been implementing procedural and policy changes to facilitate the smooth running of our North East site; organising people, information and other resources.
versatile and accomplished
Founded in 1998, Tulway Engineering Ltd is the parent company to two wholly own subsidiaries – Tulway Energy Ltd, incorporated in 2020, and Tulway Fabrications Ltd, incorporated in 2021.
Tulway Energy is an extension of Tulway Engineering, specifically offering turnkey project solutions to clients in the renewable sector.
Tulway Fabrications is our Middlesbrough fabrications facility, providing pipework fabrication and thermal insulation services to local industry.
As a family-run business, we are committed to working by our values, staying true to our reputation as one of the best in the industry for knowledge and standards, and keeping our people at the heart of all that we do.
Our unified approach promises complete transparency in the way that we operate, ensuring we can apply our skills and expertise to support our client's engineering requirements with no hidden charges or extras. If you simply require advice on technical standards or new manufacturing methods, our team is always on hand to supply up to date information.
Tulway focuses on the improvement of energy efficiency through investing in the latest technologies available and upgrading equipment across both workshops in Liverpool and Middlesbrough.
Tulway renews, reuses and recycles waste and ensures the use of renewable energies where possible. The implementation of a formal reporting process regarding the management and the mitigation of Tulway's environmental footprint, allows us to evaluate and examine our purposes and priorities. Using key performance indicators, statistical figures and associated concrete actions, Tulway's sustainability strategy considers how we stay committed ecologically, socially and economically.
Tulway has been an influential leader in cutting edge engineering design, fabrication and installation solutions for over 20 years.
Based in two workshops, Middlesbrough and Liverpool, Tulway works across the UK delivering complex designs to exacting standards throughout all engineering projects. We have earned a respected reputation for the projects we undertake, specifically those executed under the most critical environmental and logistical conditions
Our commitment to engineering excellence and continuing investment in both our equipment and people ensures we remain at the forefront of the engineering industry, leading by example by continuing to deliver high quality engineering, fabrication and installation solutions.
Tulway inspects all fabrication materials as they arrive, ensuring all materials are labelled before issue. Welding consumables are stored in a dedicated area, with a log and material certification unique to each product. PMI certification is carried out when required to support any factory issued documentation.
A dedicated CSWIP registered welding inspector controls all welding operations in our workshop – from unique welder identification to a full electronic documentation package, we can provide full traceability on all projects.
5 tonne overhead lifting capacity
UCKA / CE marked structural steelwork fabrication and installation
Laser cutting
Exotic allow fabrication and welding
Pipework fabrication
Pressure testing
Labour supply
One off fabrications
Welding services including the National Grid qualifications for both carbon and stainless steel
NDT services
UCKA / CE marked structural steelwork fabrication & installation
Laser cutting
Pressure testing
Great work by the team to deliver this on time, really pleased with the level of engineering and the way issues were dealt with as they came up
Thanks once again to you and your men for all your hard work, flexibility and understanding. You've got some great guys and we've discussed Carl was an outstanding supervisor – hard working, well mannered, good humoured, flexible – a real asset to your business!